Euro Chai provides much needed support
To South African Charities




Euro Chai South Africa is a London-based charity that raises funds to support a number of Jewish charitable causes in South Africa.. The charities we support cover education, training, community welfare and care (for the elderly, vulnerable as well as those facing specific challenges).
Sustaining the South African charitable causes has become more difficult for the local community over time and the expatriate community can make a real difference. Euro Chai South Africa is run by volunteers, so all monies raised (net of costs for certain events) reach the recipient charities.
Donations can be made at any time. There are Euro Chai South Africa fundraising events from time to time too.
Make a contribution to sustain the future for our past.
News
The 2018 dinner get-together will take place on Thursday 22 March.  Please contact Euro Chai for more information [...]

READ MORE »

The 2015 fundraising dinner will take place on Sunday 1 February.  Please contact Euro Chai for more information [...]

READ MORE »
Events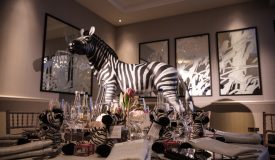 DINNER GET-TOGETHER 2018
The 2018 Dinner Get-Together was held at the Marriott Regents Park on 22 March 2018
READ MORE »